The reason this blog has been quite quiet because I stop getting new collections for a while. Lots of new Transformers Universe line has been flooding the market. Most of them are repaints. I think I reached a point that I knew that I needed to stop. It was too much reissues and repaints.
Thank god, there is great friend who got me Transformers for my Xmas.
Ta da... Superion...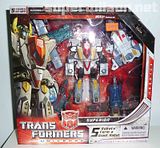 The back...
I used to own the energon version before I sold it. This version is much cheaper than the earlier version. Of course this is released by Hasbro while the other one was released by Takara. Anyhow, I will open it maybe next week after I sort out the other stuffs. Happy holidays and thanks to
Nemesis Jazz
for the pressie!